Post-Covid, 86% of companies blame ineffective collaboration or communication for remote workplace failures! Collaboration and reviewing are slow, lengthy, and inefficient. Here's a way to speed your review process up to 400% faster! Presenting the fastest review, approval, and creative collaboration software for creative teams – QuickReviewer.
QuickReviewer is a cloud-based collaborative proofing and review tool for creatives. Customers in a wide range of industries use QuickReviewer to streamline their review and approval process. It has been built for graphic designers, illustrators, web designers, and video editors so that creative teams can collaborate. You can achieve review to approval from clients in FOUR simple steps.
What Can You Review With QuickReviewer?
Video
Audio
HTML
PDF
Image
Website
Here's an Overview of This Creative Collaboration Software
Take a Look at It's Power Packed Review Window –
Four Simple Steps to Faster Creative Approval –
1. UPLOAD
Click 'NEW' to create a new folder or upload a file for review.
Choose Videos, PDFs, HTML Ads, or Images of up to 100MB each.
Create folders to keep your project creatives organized.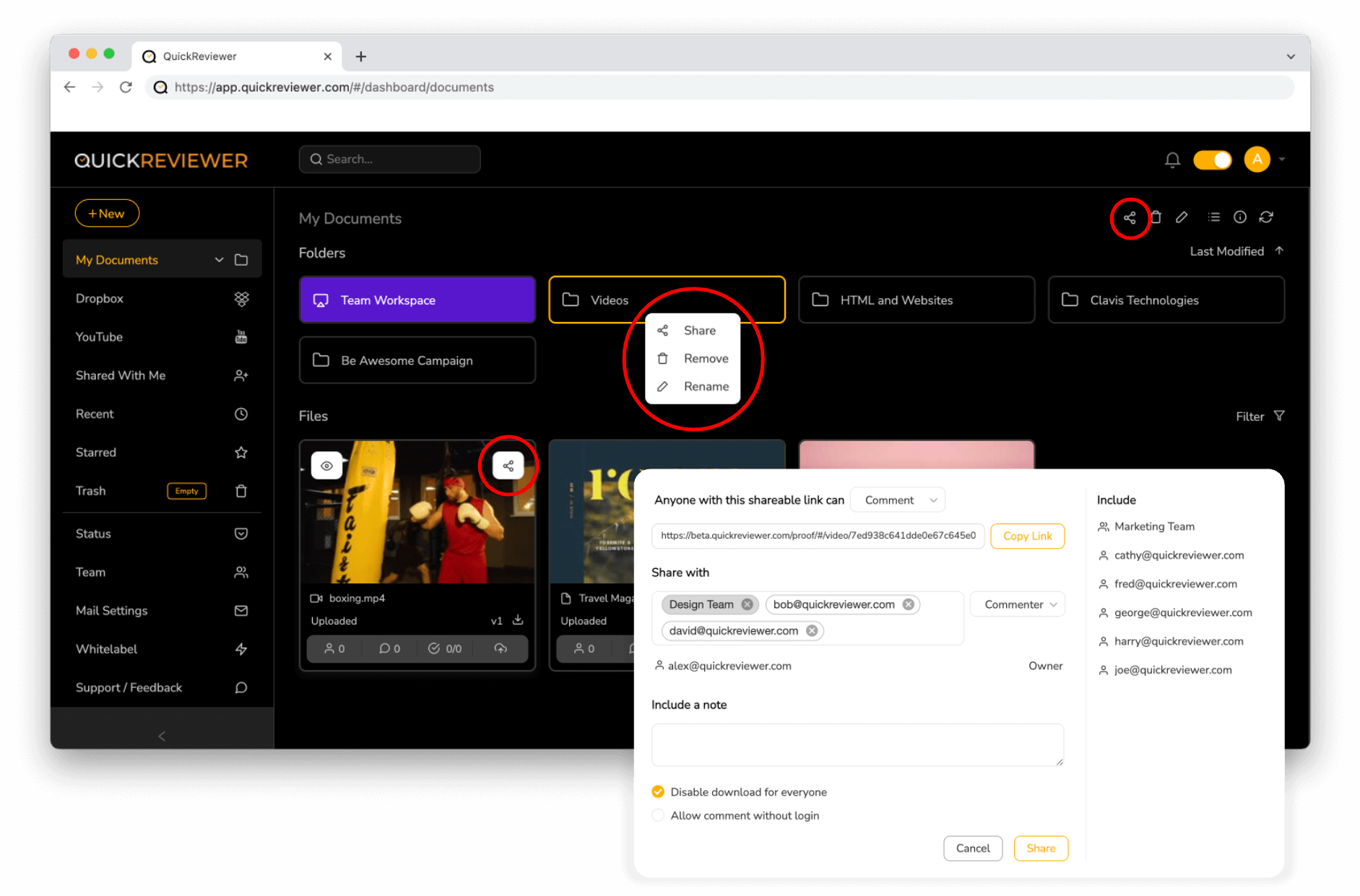 2. SHARE
Select the file and click the Share icon in the top menu.
Give rights to comment on or view the file.
Reviewers receive an email with a link to the uploaded creative.
3. REVIEW
The preview window lets you add comments, highlight text, zoom, compare previous versions and see all comments by the user or by page.
Each user gets their own color code so they are easy to distinguish.
4. REVISE
Versions are stacked, so you can refer to previous versions or compare two versions side-by-side to ensure that the requested changes were made.
Here's a Peek Into This Creative Collaboration Software –
Deal Terms
How to download and use this product?
After completing your purchase you will receive an instructions document.
What is the validity of the license key/coupon code?
(Within how many days the coupon code must be redeemed?)
The coupon code must be redeemed within 30 days from the date of purchase.
Is Lifetime Access available for this product?
No, Annual Access is available for this product.
Are Lifetime Updates available for this product?
No, Lifetime Updates are not available.
Is this deal for new users only?
This deal is for new users of QuichReviewer.
How many users can use the license key/coupon code?
1 License Key for 1 User.
Can this product be accessed on all devices?
Yes, this product can be accessed on all devices.
Is lifetime support available for this product?
Yes, FREE support is available for Lifetime.
For Support contact –support@quickreviewer.com