Longer URLs are truncated by search engines, in web browsers, and in many other areas.
Visitors like to see clean, human-readable URLs since it makes them easy to read, remember, and type.
A long unwieldy URL can be a usability issue. It could potentially also lead to lower click-through rates on the SERP (Search engine result pages).
Meet SwifLink Lifetime Deal
SwifLink provides microsite (SwifPage) and URL Shortner services to allow our users to have the freedom to let their creativity speak by fully personalizing the look and feel of their page.

Swiflink is a tool mainly for content creators, designers, artists, hustlers, and businesses who want to control their SwifPage page and imbed their recent YouTube, TikTok, Instagram, Twitter, SoundCloud and Twitch content right there amongst other links.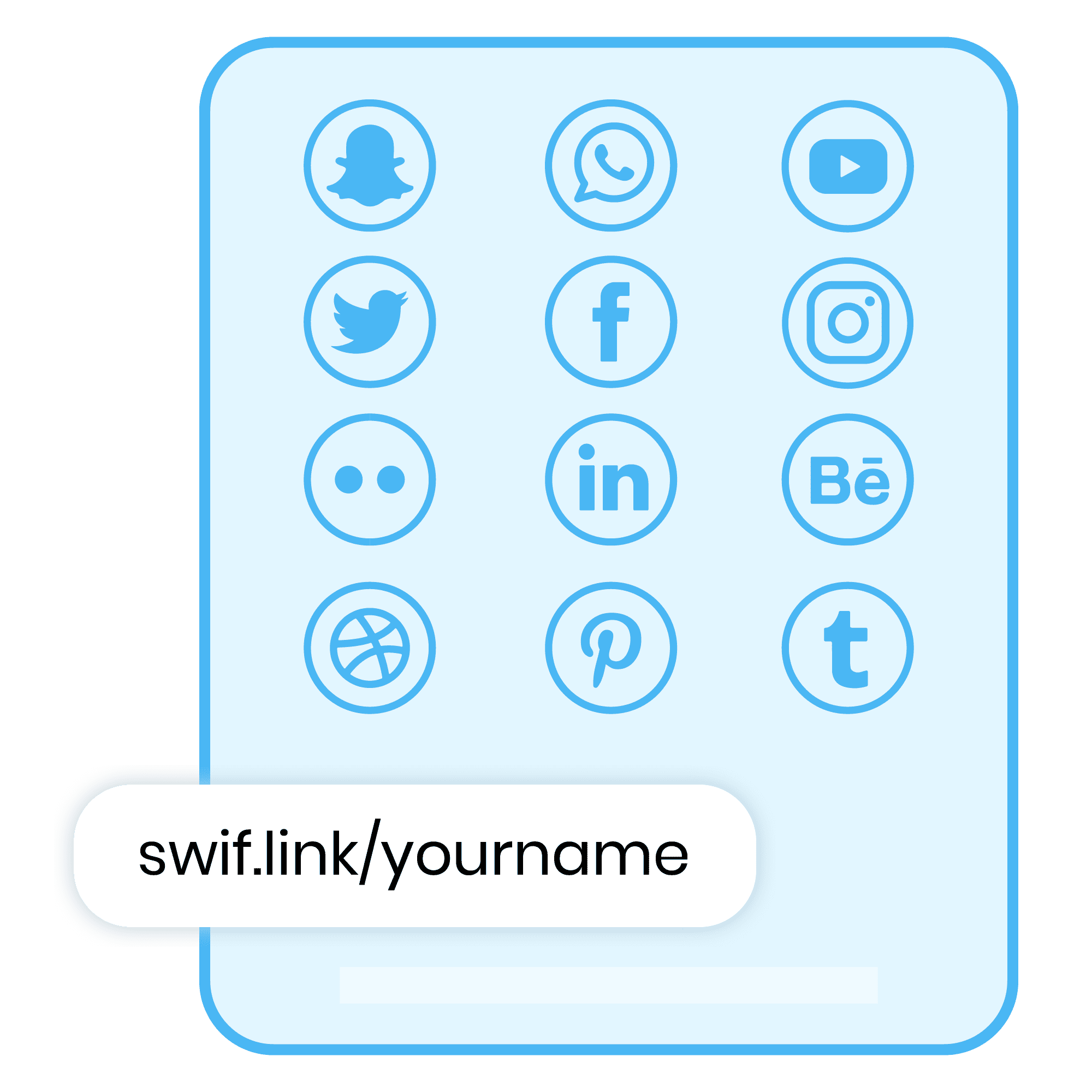 SwifLink is your one page to display your latest video, music, website, post, or anything important to you. Works on all platforms!
Why use SwifLink?
While having the possibility to not only get detailed analytics but also integrate their Google Analytics and Facebook Pixel ID in their SwifPage to share and use their own visitors' data for marketing purposes.
Neat and; Easy
We have a clean and easy-to-use interface to make your SwifPage look professional and ready in minutes.
Responsive
Ready to be viewed on every screen size right out of the box, from phones to tablets to desktops.
Fully Customisable
Have full control over the look and feel of your SwifPage. Always feel free to express your creativity.
Detailed Analytics
Get to know who your audience is and track the performance of your page & short links.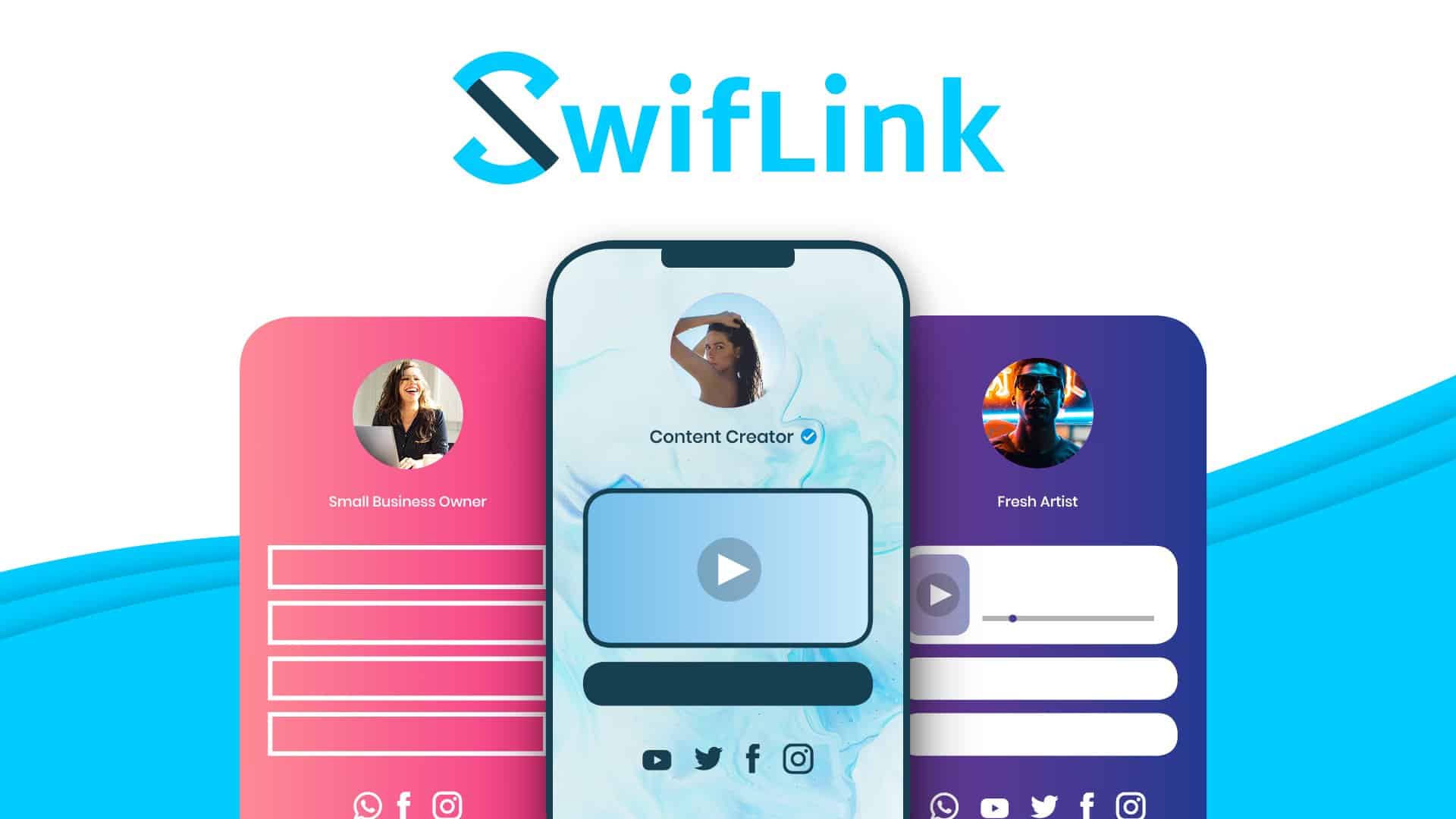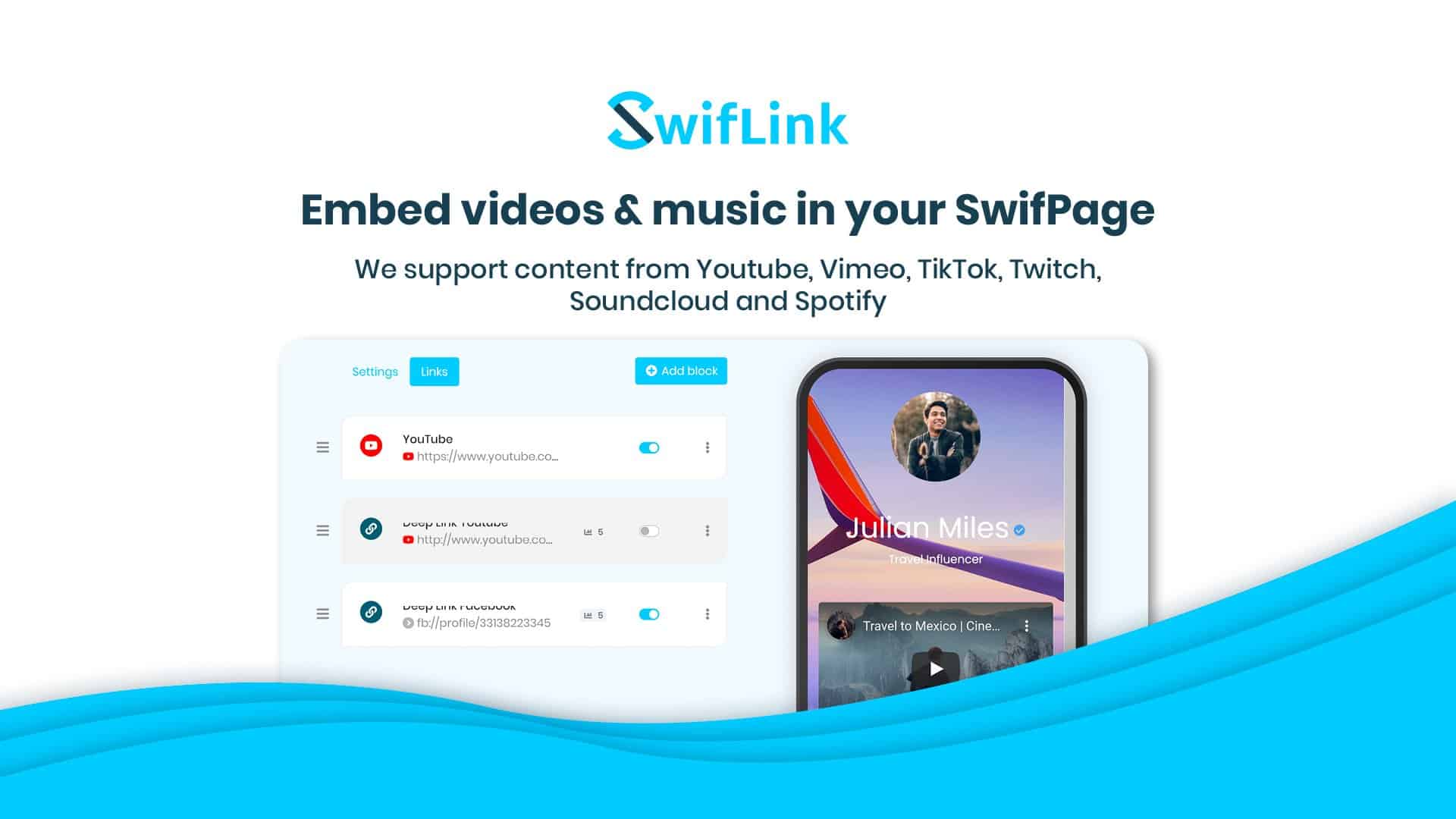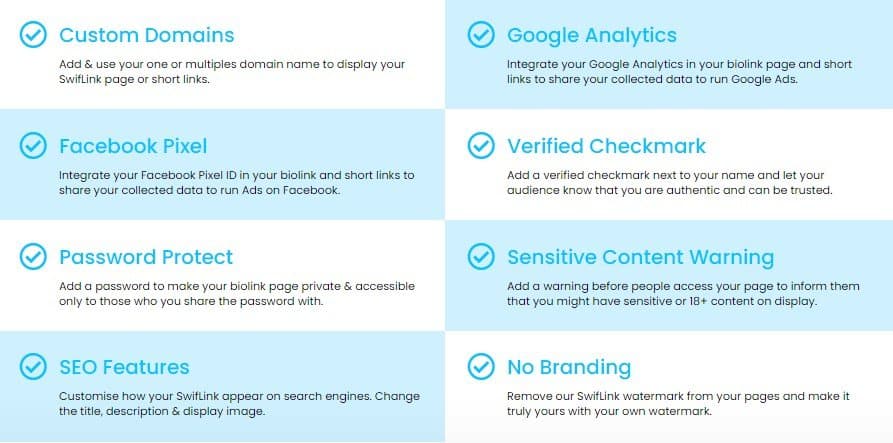 Dashboard Preview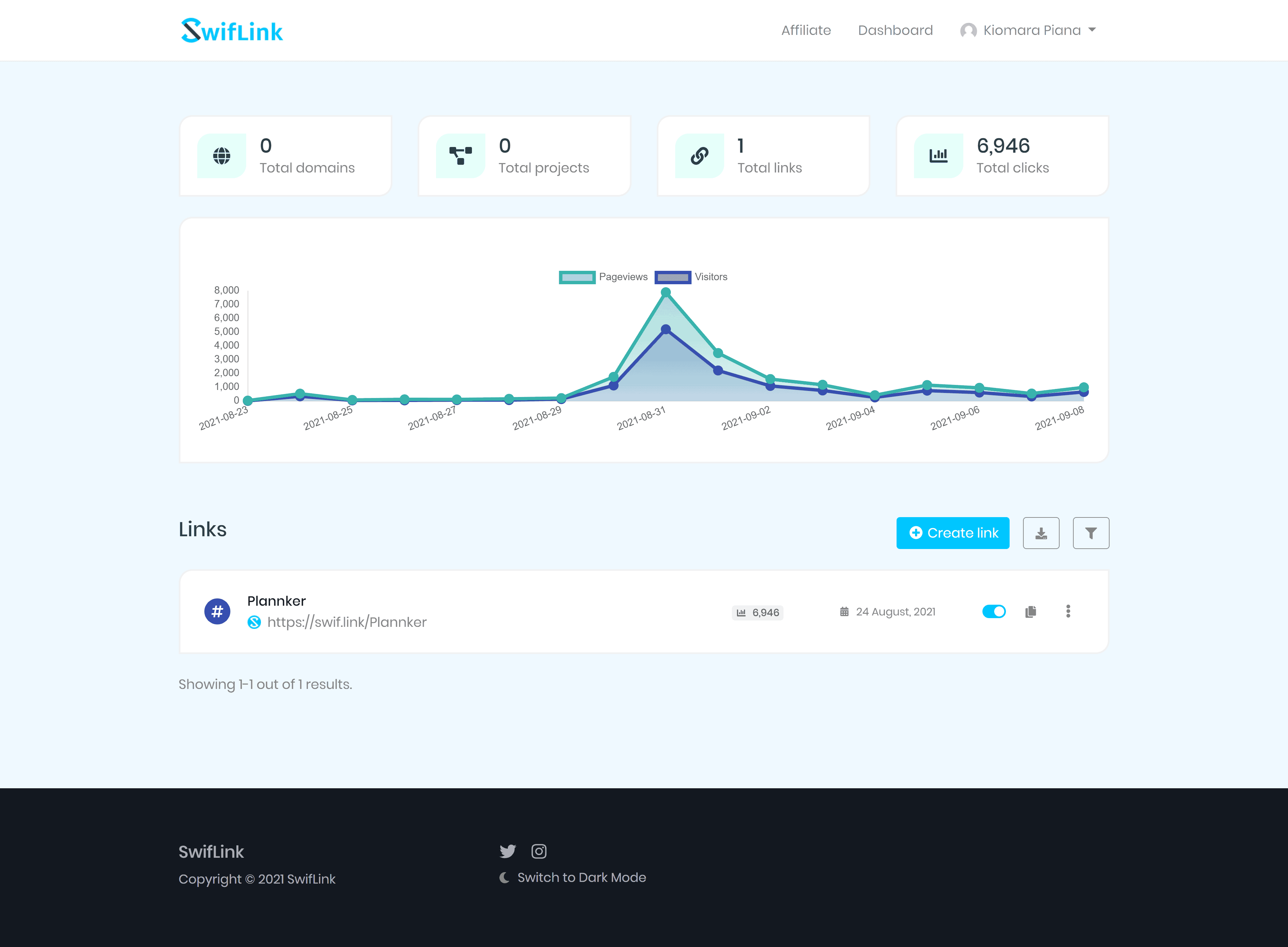 SwifLink Working
Step 1: Register
You need to register for a get started.
Step2: Create your SwifPage
Create your first SwifPage or shorten a URL.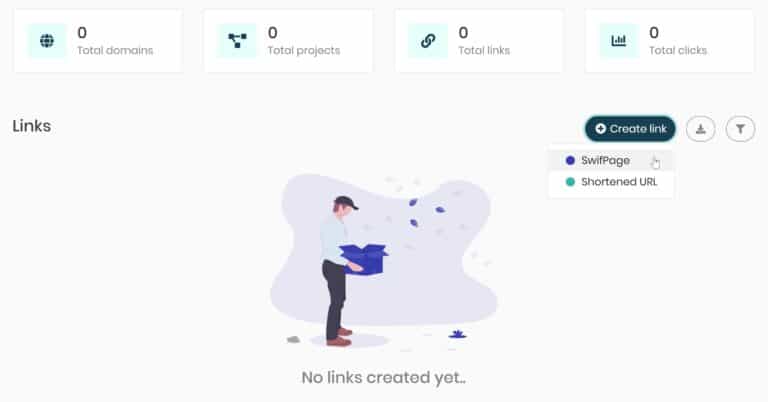 A SwifPage is also known as a "Biolink". In a nutshell, a SwifPage is a microsite that is part of your profile and contains multiple links to a website, videos, music and allowing curious visitors to find out more.
All in one single link.
Shortened is a technique on the World Wide Web in which a Uniform Resource Locator may be made substantially shorter and still direct to the required page.
If you copy and paste a long link into the main field on SwifLink, the web page spits out a much shorter link that goes to the same page.
Shortened links display better in emails, print material, and other places.
SwifLink for Content Creators
Step 3: Choose your username
Enter your username for your SwifPage. We recommend that your SwifLink username is somehow or close to your other social media usernames.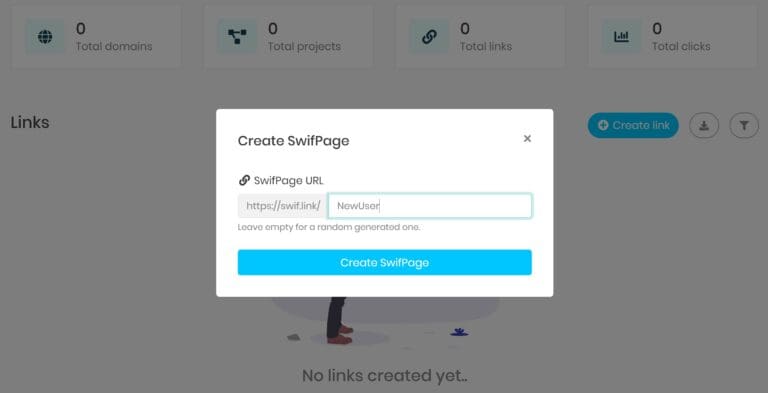 Step 4: Update your info & customize your look
Now in the SwifPage settings tab, complete the following tasks:
Add your Profile Picture, which must be in 1:1 format.
Enter your personal/brand/company name.
Add a short description.
Change your text color to your liking.
Change your background to your liking or upload your own.
Scroll down to fonts and select the one you like.
For the custom background images, you can even use GIFs images.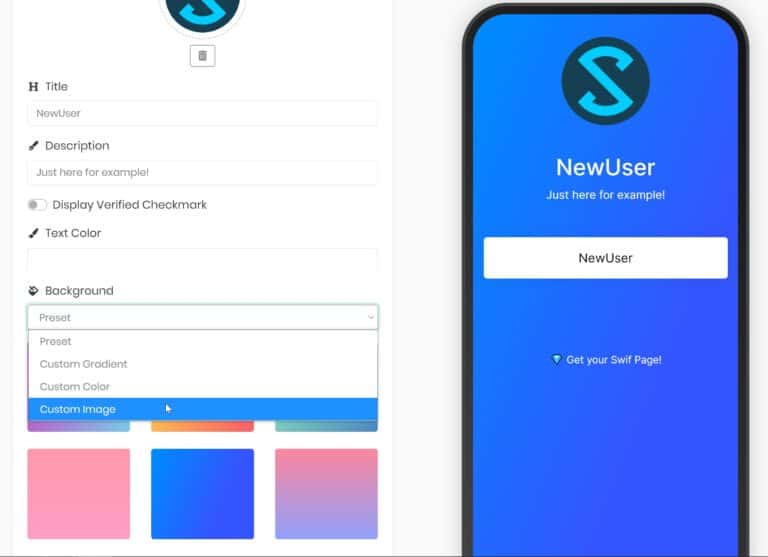 Depending on your browser, you may need to click on "Update" to see the changes you've made.
Step 5: Add your social media links
On the same page scroll down to "Socials" and add your social media usernames. Now that you've done that, click on update to apply changes.
Step 6: Edit and add new links
Now scroll back up and switch to your Links tabs and complete the following tasks on the existing link.
Update your link to your destination.
Update your link name.
Customize the look and feel of your link.
Add animation to bring attention to the link (optional)
Click on update to see changes.
Next, if you wish to add more links, just duplicate and follow the list above to change the URL destination and link name.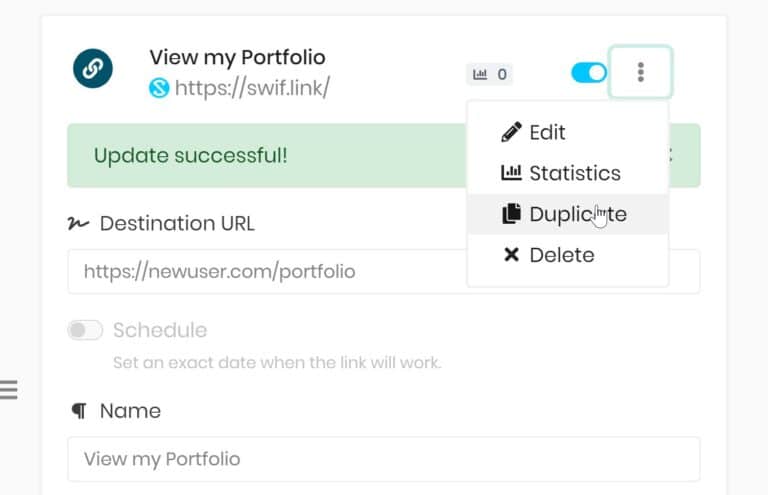 Step 7: Add other blocks
You are almost done! Additional blocks allow you to display videos from your TikTok, YouTube, etc. Even display a demo of your music from SoundCloud and Spotify.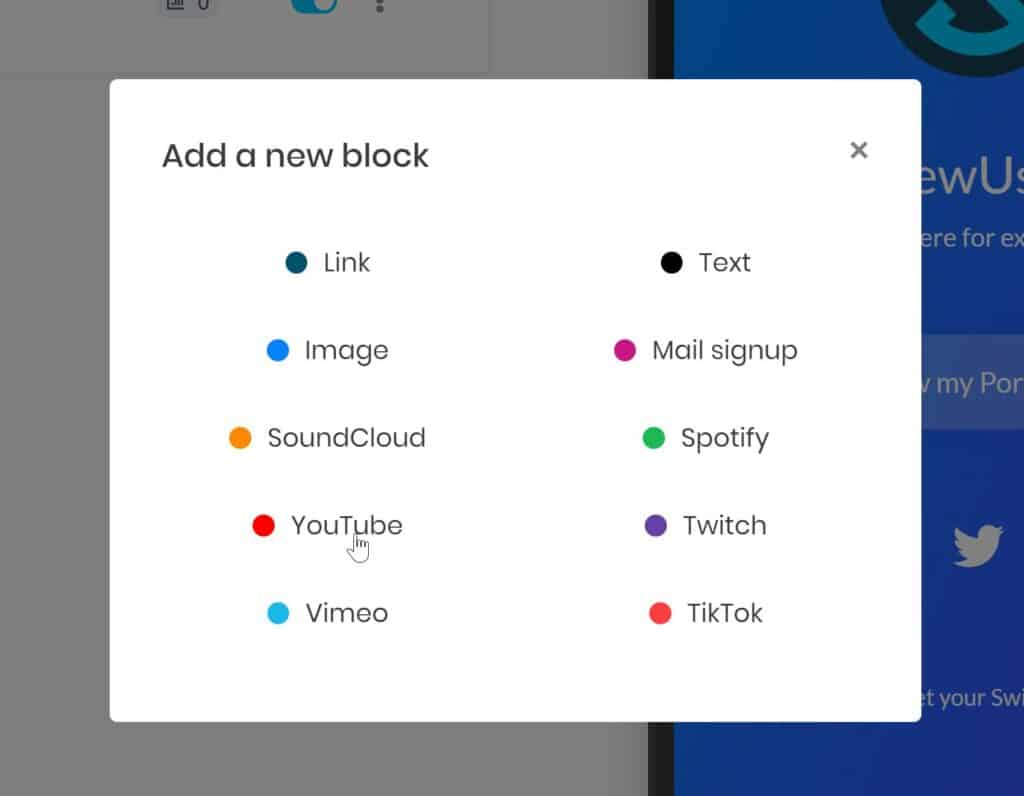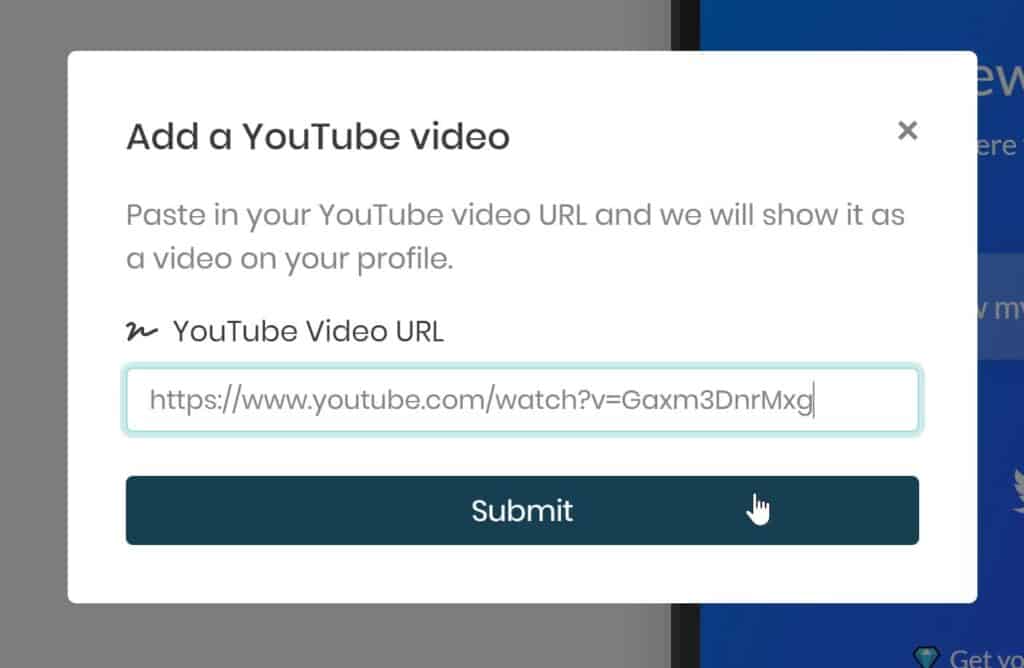 Step 8: And voila! Now share
Great job! Your SwifPage is now ready to be shared. Add your SwifLink in your social media bio and let your users view all your links in one link.

Key Features:-
SwifPage Block
SwifPage is the links and video imbed for each SwifPage Content.
Full Customisable SwifPages
Full Customisable SwifPages is the ability to change the full look of their swifpage to make it look like their brand.
In-depth statistics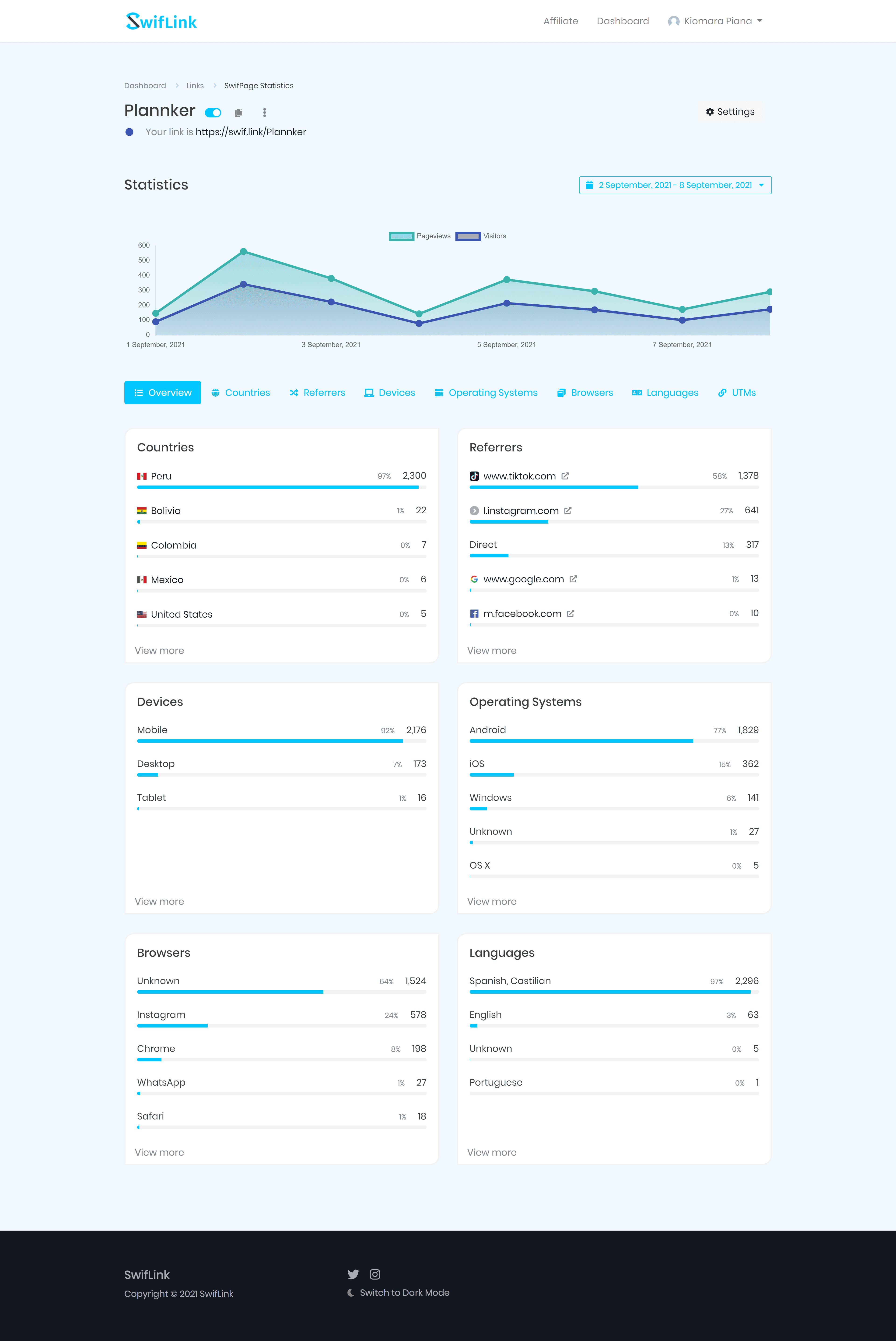 In-depth statistics is as seen above, details statistics about who visited their SwifPage and from where.
In-depth statistics are useful to collect data to run targeted adverts on Facebook, Google, Linkedin, etc
SwifLink Creator/Pro Plan Lifetime Subscription
10 Projects
3 Pixel Entries
1 SwifPage
1 Custom Domain
Unlimited Shortened Links
All SwifPage Blocks
Full Customisable SwifPage
In-depth Statistics
Verified Checkmark
Link Scheduling
SEO Features
Password Protection
Sensitive Content Warning
No Ads
Access to Affiliate Program
Deal Terms
Length of access: Lifetime
Redemption Deadline of coupon code: 60 Days from purchase.
Online Access Tool